Named the "Lady Hawaiian Punch" after Hawaii legend Jesus Salud.  Morton is the current undefeated WBO Asia Pacific female flyweight champion, known for her crowd-pleasing style.  Morton primarily fights in Asia and dedicates her free time to coaching and non-profit community work.
NAME:
Casey Croft
Alias:
Lady Hawaiian Punch
Birth Name:
Carissa Lehua Morton
Born:
1983 / 11 / 05
Birthplace:
Honolulu, Hawaii, USA
Hometown:
San Mateo, California, USA
Height:
5′ 2″ / 158cm
Role:
Boxer
Division:
Super Flyweight
Stance:
Orthodox
Bouts:
18
Winning / losses / draws:
11 / 4 / 3
Titles:

WBO Asia Pacific Champion

WBO International Champion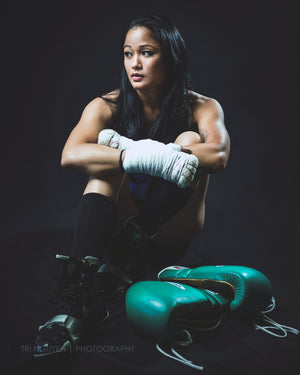 BIOGRAPHY:
Casey Morton is a native of Oahu, Hawaii and of Polynesian and Asian decent. In search of a better life she found a home in San Francisco, California. Since being introduced to boxing she aspired to be crowned World Champion.
She had her first amateur boxing match after two and a half months of training and has not skipped a beat in working towards her goal. Often earning Fight of the Night and Fighter of the Night awards in her bouts, this boxing beauty is notorious for her crowd pleasing fighting style. Signature chants of her name during bouts complement her landing many spots in the sports section of the local newspaper.
After an exciting amateur career, Casey turned professional in 2014. With a successful start she anxiously awaits the date of her next professional bout. Her relentless work ethic and dedication to her dream has inspired the lives of many.
Between strenuous training sessions you can find Casey supporting youth outreach organizations, participating as a motivational speaker to groups and organizations, or coaching. Assisting people of all walks of life and ages in reaching and attaining their goals.